Yoga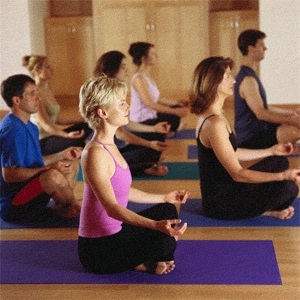 As part of our continued effort to provide our clients and the community with ways to create health and wellness in their lives, we are excited to be offering Yoga/Pilates classes!
Here are a few benefits of Yoga/Pilates:
Improves Posture and Alignment
Improves and Benefits Breathing
Improves Flexibility and Balance
Each class is formatted to work with every body as well as everybody. They are designed to remain small (9 or less) so that each person can receive individual attention as needed. Many options are provided to make your Yoga/Pilates experience the best it can be. Please plan to bring a mat, towel and water bottle. Blankets can be nice for relaxation at the end, but not required.
Don't try learning Yoga on your own. Kathy Pabst (YogaMooch) is your instructor (see bio under staff tab). Always work with an experienced and credentialed instructor to learn the proper way to perform the exercises and avoid injury.
Know your limits and stay within them. Before beginning any new type of Yoga, ask about its physical demands. Find out how strenuous it is. Talk with the instructor and others who do that type of Yoga to be sure it's suitable for you.
Go slow. You're not in competition with anyone else in the class. Learn the basics, such as proper breathing and how to maintain balance, before you attempt the more ambitious stretches.
Warm up properly before every session. Cold muscles increase your chance of injury.
Wear proper clothing. Wear clothes that allow you to move freely. Bring a mat and water.
Ask questions. If you don't understand an exercise, ask to see it again before you attempt it yourself,
Pay attention to what your body is telling you. Yoga isn't supposed to hurt. If you feel pain, stop. If the pain persists, see your health care provider. Stop immediately if you have chest pain, feel faint or overheated, or become dizzy. Get immediate medical help if the sensation continues after you stop.
Cost: 10 visit punchcard $110
20 visit punchcard $200
Kids Yoga (ages 6+, $45/month)
Drop ins welcome $12 visit
| | | | | |
| --- | --- | --- | --- | --- |
| Monday | 9 am beginner Yoga | 10:15 am Pilates | 5:30 pm Pilates | 6 pm Yoga |
| Tuesday | 6 pm Yoga with Toni | | | |
| Wednesday | 11 am Pilates | 11:30 am Yoga | | |
| Friday | 9 am Pilates | 10:15 am Yoga | 4 pm kids Yoga 6+ | |
Pilates is a safe, sensible exercise system using a floor mat that will help you look and feel your very best, no matter your age or condition. Pilates improves core strength, flexibility, agility and economy of motion. It can even help alleviate back pain and other chronic ailments. Pilates dramatically transforms the way your body looks,feels and performs. It builds strength without excess bulk, creating a sleek toned body with slender thighs and a flat abdomen. Classes may include props such as small balls, circle bands, long bands and light weights.