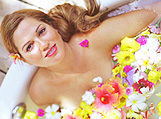 What can I expect my first visit?
Your therapist will complete a case history based on information you will provide. A range of motion assessment as well as muscle testing may be conducted, if necessary, which will provide a course of treatment, designed for you. For the massage, the therapist will step out of the room to allow you to undress to your level of comfort and make yourself comfortable on the massage table. Your privacy is respected at all times.
Do you offer gift certificates?
Gift certificates are available for all occasions. A one hour massage is a perfect gift for a bride to be, a friend or a loved one battling the stresses of life.
Will Peachtree City Massage accept insurance?
We do not bill directly for insurance, however we will provide you with a receipt needed to file for reimbursement. If you wish to file insurance, please bring a prescription for Neuromuscular Therapy and/or Myofascial Release from your doctor stating diagnosis, frequency and length of treatment.
I have an appointment but I need to cancel?
We understand things come up however please keep in mind that your appointment time, plus and additional half hour is set aside for you. If you must cancel your appointment, kindly give 24 hours notice. No shows or last minute cancellations will be charged in full for the scheduled session. Your consideration is greatly appreciated.
What are the benefits of a massage?
Help reduce stress
Improve circulation
Relieve muscle tension
Reduce chronic pain
Help improve joint mobility
Restore feelings of well being
Assist in recovery from minor trauma
Improve range of motion